CNN SOUNDS DISAPPOINTED: VIRGINIA GUN-RIGHTS RALLY CONCLUDES PEACEFULLY DESPITE EARLIER FEARS OF EXTREMIST VIOLENCE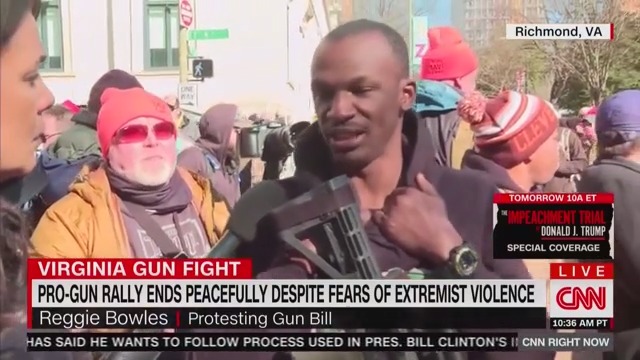 Washington (CNN)A large gun-rights rally in Virginia's state capital unfolded peacefully Monday despite earlier fears of the kind of violence that took place in nearby Charlottesville three years ago.
Security was tight as gun-rights advocates descended on Richmond for "Lobby Day" to oppose legislation that would restrict access to firearms in the state. The 
commonwealth braced 
for the potential of extremist and white nationalist groups to disrupt the peaceful demonstrations with violence and riots, and the state's Democratic governor, Ralph Northam, declared a temporary state of emergency last week to ban open and concealed firearms and other weapons from the state capitol grounds.
About 22,000 people attended the rally, according to the Virginia Division of Capitol Police. That includes about 6,000 people in the official rally area and 16,000 outside.
Read the whole news at
CNN